quality without compromise
QUALITY CONTROL
quality without compromise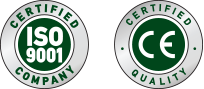 For FINOBETON S.A., ensuring the quality of the final product is a top priority.
For this reason, the company applies a quality assurance system according to the international standard ISO 9001:2015 in all the sectors in which it operates:
Production and distribution of ready-mixed concrete
Production and distribution of asphalt mixtures
Development, production and distribution of dry mortars
Cutting, processing and distribution of marble, stone and granite products
Production and distribution of aggregates.
The continuous control and supervision of the implementation of ISO 9001:2015 ensure:
The consistent quality of the final products
The quality of the provided services.
Additionally, only CE-certified raw materials are used:
Cements according to European specifications EN 197
High purity quicklime according to European specifications EN 459
Aggregates bearing the CE marking for use in ready-mixed concrete (EN 12620), asphalt products (EN 13043) and dry mortars (EN 13139)
Chemical admixtures certified with CE by the largest international producers.
FINOBETON S.A. has incorporated extensive controls within its production processes in order to ensure the highest standards of quality and consistency for its final products, and thereby for the services provided to its customers.
All production units have the most up-to-date, fully automated monitoring and control systems for the automatic recording of the production process. All truck mixers that distribute ready-mixed concrete and floor screeds are equipped with an independent chemical admixtures dosage system in order to avoid the use of excess water at the construction site and ensure the consistent quality of the final product.
The quality assurance procedures and the tests of the raw materials are carried out at the fully equipped Laboratory of Quality Control in Chordaki, Chania. Dense random quality checks of the raw materials are carried out, as well as, all the required quality controls of the final products.