Finomix dry mortars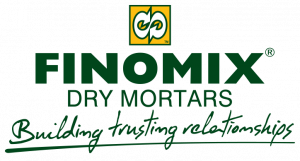 The modern, fully automated plant of the FINOMIX dry mortars, with a capacity of 500 tons per day, has been operating since 2008 at the company's facilities in Chordaki, Chania.
FINOMIX products are available in the Greek market and abroad through the distribution centers of the company in Chania, Herakleion (Crete) and Athens, and a dense network of up-to-date associates and points of sale.
In 2022, in the context of the company's investments and continuous development, FINOMIX production facilities were expanded and improved and a new 2,500m2 logistics center was completed, contributing to the immediate and efficient meeting of the ever-increasing market's demand.
Technical support is provided by specialized technical staff in order to provide high quality services not only before but also after sales, as well as, hands-on training on optimal product application and the proper operation of the application machines.
The FINOMIX Research and Development Department, staffed by experienced and fully trained scientific personnel, creates modern, high quality and easy-to-use products, which are integrated, reliable and timeless solutions in the field of construction materials. The company participates in collaborative research projects with distinguished universities in Greece and leading research centers that develop structural chemicals in Europe, aiming at the exchange of know-how towards the development of innovative solutions for the building industry.
Product categories:
Repairing products & putties
Waterproofing & sealing products
Tile adhesives & grouts
Floor screeds
External thermal insulation composite systems
Decorative mortars
Building mortars & premixed plasters
Primers
Mortar & concrete improvers
Cleaners

FINOMIX products are CE marked according to the Regulation (EU) 305/2011 and the relevant European standards: EN 1504 (mortars for the repair and protection of concrete structures), EN 12004 (tile adhesives), EN 13888 (tile grouts), EN 13813 (floor screeds), ETAG 004 (external thermal insulation systems for facades of buildings), EN 998-1 (rendering and plastering mortars) and EN 998-2 (masonry mortars).
At the same time, the company implements a quality assurance system according to ISO 9001:2015 international standard, an environmental management system according to ISO 14001:2015, as well as an occupational health and safety management system according to ISO 45001:2018.